OUR FEATURED ARTIST DEBUTS RUN FOR 6 WEEKS.  ALL ART IS SIGNED & THERE IS ONLY ONE OF EACH.  NEW PIECES WILL BE ADDED THROUGHOUT THE EXHIBITION.
ArtNewCo. is delighted to introduce our newest featured artist,
Cosette Payne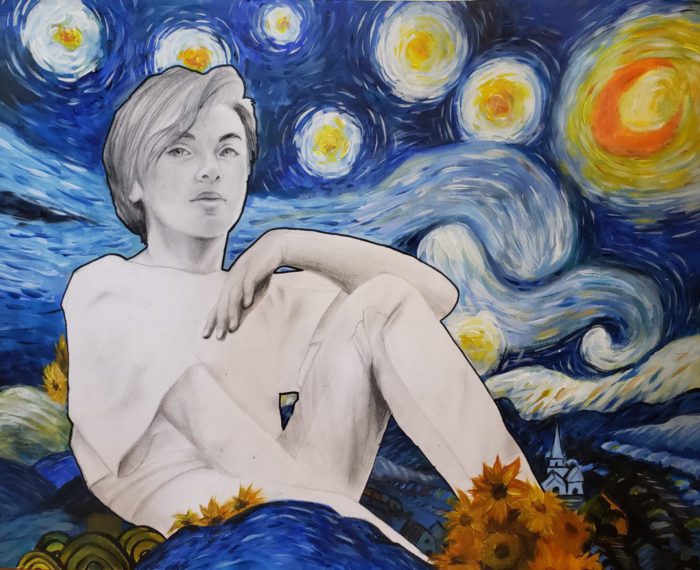 OUR TAKE
Why We Chose Cosette
Jeff & I made sure when we started ArtNewCo. that we took the time to learn and meet some local artists right here in Ohio.   Cosette is from Columbus, Ohio and we've known her family for quite some time.  When we met Cosette, she had some amazing worldly stories about her interests outside of school and we were just captivated by the spark she had for life and the arts.  Then….we saw her art…and I almost didn't want to feature her, I wanted it all myself (decided to share).  What we like about her work is that it all has personality.  Starting with a still life that is "Literally Just Oranges" something so tangible you want to grab one & laugh at the same time that there doesn't need to be any fancy titles here – they are literally just oranges.  However, this piece of art was inspired by "The Godfather"… let's not foreshadow to much.
Many artists draw celebrity classics such as these so when I asked her about Marylin (Anonymity #1) & Elvis (Anonymity #2),she said "A comment on fame, what makes someone famous and how fame – once achieved – is hard to escape.   You instinctively know who these people are, even with their most famous features hidden from view."  With Chanel No. 5, of course a "always needed" image but her reason for doing it was to challenge herself to attempt to recreate the look of glass & choosing a black canvas because she just loves the color pop.  Here we thought we just loved the perfume.   So much insight in this young mind, and we are tickled to introduce you to her!
INTRODUCING
Custom Commissions
One of my favorite things to do is to sketch & paint portraits…and of animals as well!  Capturing the personality of people I don't know in a welcomed challenge.  You can send me one picture you'd like created or a few and I can blend them together, getting the best likeness or maybe it's a picture of your old house + a picture of you and you'd like to be sitting back on your old porch…I can make that happen!  I wanted to do something special for my followers so I've offered discounted pricing for this special curation – Cosette.
-WHAT NEXT-
1) Submit the art piece(s) you would like
2) Our team will email you to request your pictures you'd like commissioned
3) Artist will give time-frame (typically 10 days depending on the level of intricacy)
4) You'll be Invoiced
5) HANG YOUR ART!
INTRODUCING
Her Featured Work
Hello, I'm Cosette, a 14 year-old artist from central Ohio who has been studying art for several years.   Besides school lessons I've  studied drawing, acrylics and  even taken a higher level oil painting class at CCAD.  I am currently interning at an art gallery for the summer and hope to get a degree in medical illustration.  My artwork doesn't necessarily fit a narrow theme, instead I draw or paint anything that inspires me at that moment.  I enjoy doing personal commissions, especially of pets and portraits. Enjoy!
Do you have an idea for a piece?
A recreation, your version of a famous painting, a vision, a combination…let our artist know!