How To Create Modern Victorian Interiors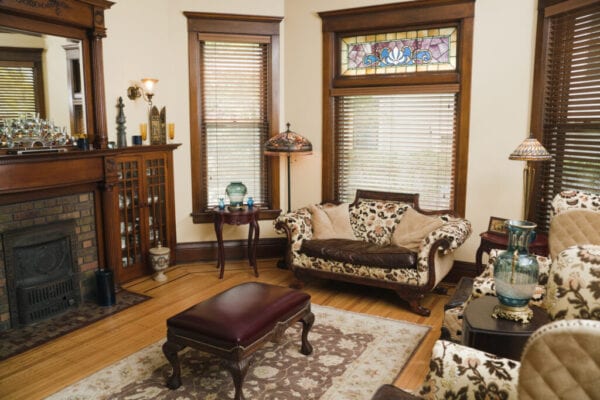 YinYang / Getty Images
Owning a character-laden Victorian home sounds dreamy until you move in and discover that the ancient antiquity runs throughout the home — including the wiring, roofing and windows. That's fine, you can just remodel, right?Well, sometimes it's not all that simple. Remodeling a Victorian home is not only costly and time consuming, but before modernizing a historical home you may have to jump through the hoops of historical and preservation societies, as well. Read Why You Should (or should'nt)Buy A Fixer Upper to  learn more about remodeling an older home.
Despite all the obstacles, the intrigue of owning an age-old Victorian home is still strong for some. We can understand why when these wonderful homes are so chock-full of character and craftsman qualities that are hard to come by in most modern homes.
Aside from costly remodeling, how can we mesh modern interiors into our ancient home? Or on the flip side, how can we take our modern home and decorate it with a touch of Victorian charm.Meshing modern design with a Victorian flair can be done — in any home.
Let's look at inventive ways (that don't require remodeling) to bring the nostalgic appeal of bygone Victorian days into your home, but in a modern manner: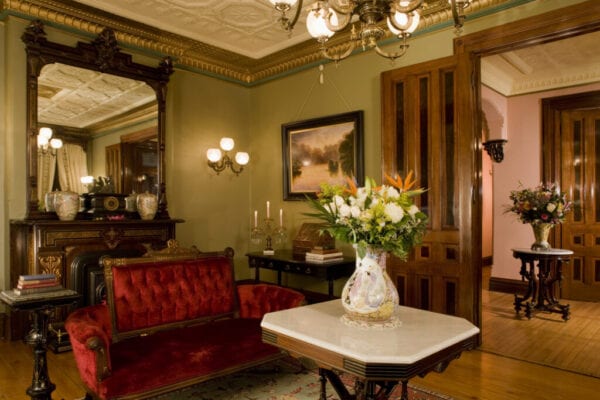 Kaufman / Getty Images
It's All About Mixing Modern Style With Victorian Style
Some may call this look eclectic, but we prefer to call this mixture, Modern Victorian. Really it only makes sense that this style has evolved into being. Most people who own a Victorian home want some small sense of modern design in their home, and those who don't own a Victorian crave the Victorian quality and character that seems hard to come by now-a-days.
Creating a modern Victorian interior can be achieved by carefully meshing the two styles together. Stress on the word, carefully — you don't want a messy mixture that makes your home look like it was decorated by a bunch of your grandmother's cast-offs, mixed with some modern chain store furniture finds.
This design is one that must be well thought out, not thrown together.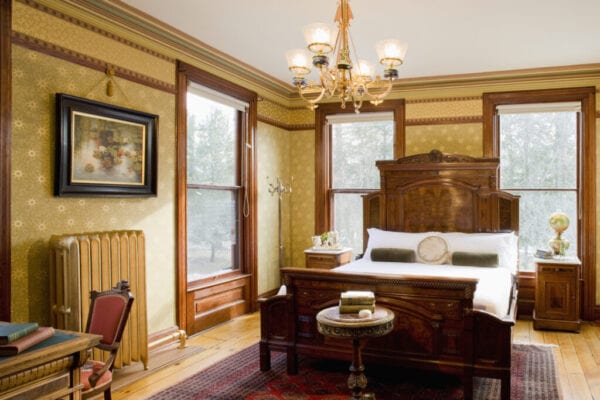 Kaufman / Getty Images
Let's look at examples of a perfect mixture that helps create a modern Victorian interior:
Pair an ancient wood table with ultra-modern chairs, such as clear acrylic or steel chairs.
Reupholster an old Victorian-style sofa with modern chevron fabric. Or reupholster a very modern chair in a Victorian-style fabric such as damask, floral or tapestry.
Remodel your grandmother's old dining table set by simply reupholstering the chair cushions with a bold graphic print.
Paint an old armoire a bold, sleek black or crisp white (yes, this thought makes some antique-lovers cringe).
These perfect mixtures all create a true style statement that says, "I like modern design, but I also like the curves and quality of Victorian antiques." To learn more about Victorian style consider reading Historic Homes And Why They Still Capture Our Hearts.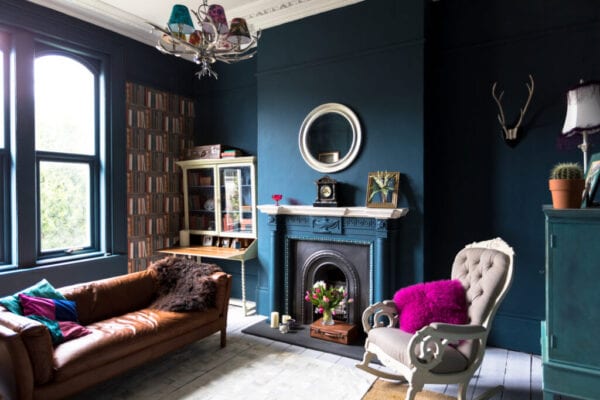 nicolamargaret / Getty Images
Add Craftsman Character To Your Home
This article promised design ideas that did not require hefty renovations, so in keeping with this promise we will not tell you to have crown molding, dado rails, wainscoting, cornicing and wall panels installed in your home in order to create Victorian character (but all of these would help if you desire doing a bit of remodeling).
Victorians were very much in love with ornately carved wood furniture made of mahogany, walnut and oak. Everything was hand crafted, hand-carved and well-made.
Nothing was cheap; homes were meant to show-off your wealth via all the wonderful high-quality belongings that filled it.
How else can you add this charmed craftsman character without renovating?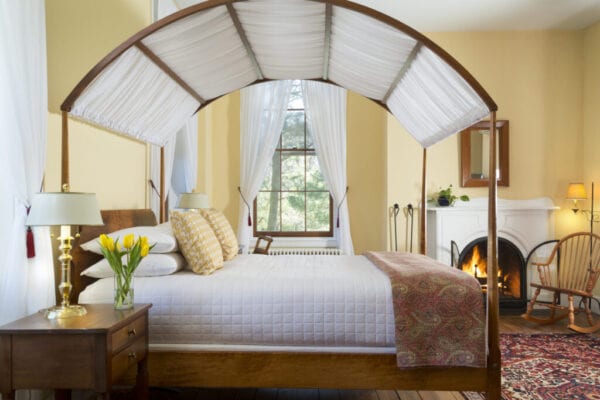 Lovette / Getty Images
Here are great ideas to add craftsman character to your home:
Add carved wooden pieces everywhere possible — not just in furniture, but in mirror frames, lamps, and picture frames.
Buy high-quality furniture. Even if you are mixing modern furniture into your Victorian home, make sure it is the best quality that you can afford. Cheap factory-made furniture can ruin the aesthetic.
Add a fireplace mantle. You can find old mantels at many flea markets, or buy a new electric fireplace that has the style of an old wood-burning one.
Salvage old architecture and repurpose it. Old windows, trims, and doors can be found online and used throughout your modern home, adding a Victorian vibe.
Add marble. Whether you find an amazing marble-topped table or a carved marble statue, adding this wonderfully rich element promotes the high-quality aesthetic that Victorian homes boast.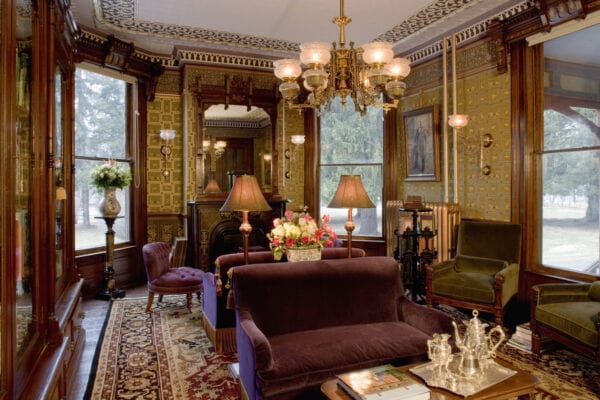 Kaufman / Getty Images
Create Color-Themed Rooms
Those who lived in the Victorian period were not scared of paint color. There were no white walls in this time of opulence and decadence. Rich hues of green, gold-brown, red, and blue were very popular.
Victorian colors were somewhat dusty in nature compared to our bright modern colors, but colors were used everywhere (ask your local paint store if they have a heritage color line). Sometimes the bolder colors were used to denote a room of high importance such as the dining room or library, while less bold colors were used in rooms such as the kitchen. Either way, color was everywhere and each room had a new dramatic color than a neighboring room.
This color scheme is easier to pull off in an older Victorian home that is broken up into numerous tiny rooms, versus our modern, open floor plan homes.
Take a look at a few ways to add Victorian color into any style of home:
If you have a modern open floor plan, then consider painting individual accent walls to add Victorian drama to your home.
If you live in a Victorian home, then take advantage of all those small rooms and paint them all a different hue.
On the other hand, if you own a Victorian home that you want to modernize a bit, consider painting everything a warm white. You can always add Victorian flair via accessories, after all, mixture of old and new is the main point of Modern Victorian design.
If bold paint simply scares you, then consider adding color via accessories, window treatments and textiles, forgoing bold walls for beige walls.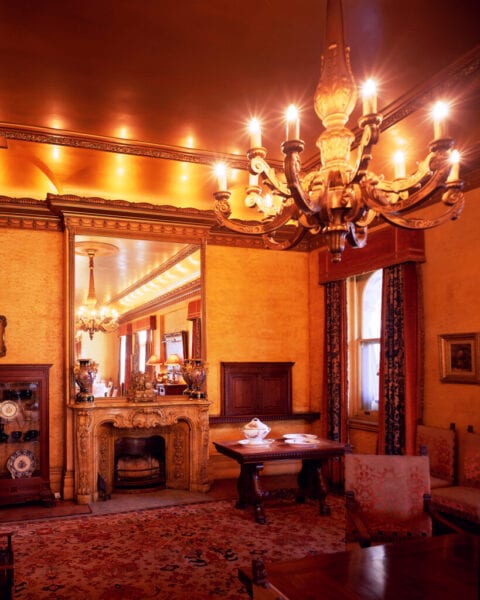 ShaniMiller / Getty Images
Don't Forget The Details
Victorian times were full of detailed decor. Everything was in excess — homes were brimming with ornate furniture, textiles, knick knacks, and paintings.When decorating your Modern Victorian home, restraint can be used sparingly. Floors can be layered with persian-style rugs, walls can be covered in ornate oil paintings, and windows can be trimmed in lavish silks.
However, you still want a modern vibe, too, right? Modern interiors are the exact opposite; they are stark, straight-edged and restrained. How can you create the best of both design worlds?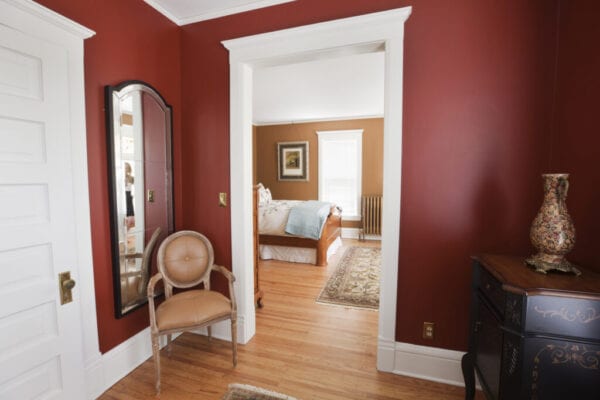 YingYang / Getty Images
Here are some ways to mesh this lavish layered look with a modern twist:
Feel free to layer on the details in your Modern Victorian home, but use a little more restraint than homeowners of the Victorian times normally would. Layer your decor items just enough to make the room feel cozy, not covered floor-to-ceiling, as some did back then.
Add romance via fresh flowers or small touches of floral fabrics in pillows. A floral pillow placed on a modern chair can offer a nice Modern Victorian touch.
Add floor-to-ceiling curtains in a Victorian drape style, but use a modern graphic print.
Pair your modern cork or tile floors with a persian rug
Show off your antique porcelain collection inside a clean-lined modern cabinet, or on top of a modern steel table.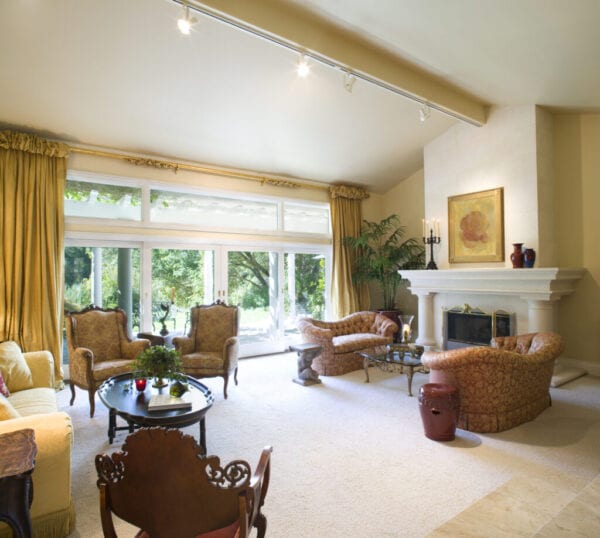 LOOK Photography / Getty Images
As you can see, creating a contemporary interior that meshes with the Victorian times, can be tough. It takes a keen eye to mix these two styles and achieve a result that looks spot-on, instead of some crazy puzzle that doesn't exactly fit together.
Add the puzzle pieces slowly to be sure they fit well together. Start by mixing your modern and Victorian furnishings together in a room, step back and see what works together. Maybe you need to reupholster an older piece with a modern fabric, or maybe you need to paint the walls a bold color. Live with the two styles together to get a feel of what works for you. Eventually, you will have the perfect mix of old and new, creating your very own Modern Victorian home. There are many other design styles that mix well with Victorian homes, such as 10 Ways To Achieve A Victorian Gothic-Inspired Home.
What ideas do you have to create a Modernictorian home?
By Shelley Little: click HERE to view source.